We are committed to providing you with professional
solutions! Guided by the international and domestic markets, we will continue to develop and expand the scale of the company, improve the quality of products, and establish a complete quality assurance system and production management system. We insist that the quality standard of each product must be higher than the industry level to ensure that the product reaches a unified standard and quality.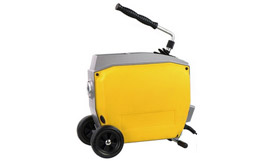 Drain Cleaning Machine
Model: 011
PRODUCT INFORMATION
• High performance cables are specially hardened and tempered. And maximum spring tension with high elasticity and flexibility, abrasion-resistant, low wear

• The perfect, all-round sink, shower and floor drain machine.

• Unique, easy-to-use, instant-acting cable clutch maximizes operator control: Pull handle down and cable spins at 400RPM Release handle, cable stops instantly

• Equipped with 300W(output) motor; Rated Voltage: 110V/60HZ, 220V/50HZ

• No-load Speed: 400RPM

1. Suitable for all kinds of indoor and outdoor pipe cleaning
2. Easy to transport and use
3. Ideal for household and construction site
4. Particularly light, compact handy design, ideal for general purpose maintenance work on baths, wash basins, toilets, in kitchens, waste pipes, drains and down-pipes.
5. Direct connections of cables with diameters of 16 mm and 22 mm for working in pipes up to 150 mm in diameter.
6. The perfect, all-round sink, shower and floor drain machine.
DRAIN CLEANING MACHINE RELATED PRODUCTS