We are committed to providing you with professional
solutions! Guided by the international and domestic markets, we will continue to develop and expand the scale of the company, improve the quality of products, and establish a complete quality assurance system and production management system. We insist that the quality standard of each product must be higher than the industry level to ensure that the product reaches a unified standard and quality.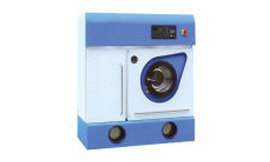 Dry Clean Machine
Model: 002
PRODUCT INFORMATION
1, Centralized control on computer board for washing, dewatering and drying. A machine completely replace the function of traditional two machines-washer and dryer. The whole structure is reasonable and compact, to save 100% space;
2, More effective use of the thermal energy than conventional radial machine; Shorten the drying time, saving costs;
3, The bilayer structure occupies a very small space, easy to move, easy to maintain;
4, Using the latest technology from abroad, Siemens Power, the overall performance is more robust and stable, the best cost-effective integrated machine of the minitype washer-extractor-dryer.

<-------- Can Move Left or Right -------->
| | | |
| --- | --- | --- |
| Capacity | kg | 20 |
| Drum voluem | l | 313 |
| Washing speed | r/min | 32 |
| Middle Spin speed | r/min | 450 |
| Hydraulic sump Power | kw | 0.75 |
| Washing power | kw | 1.5 |
| High spin power | kw | 4 |
| Filter power | kw | 1.75 |
| Dimension(L.W.H) | mm | 2160×1530×2040 |
| Net Weight | kg | 2240 |
DRY CLEAN MACHINE RELATED PRODUCTS